Whether your event is a large corporate party, or a small, private affair, Paul Speidel Productions will provide the right music to create the environment you're looking for. In addition to personally providing the highest quality music with his own groups, Paul books a wide variety of styles of music featuring many of Boston's most talented musicians.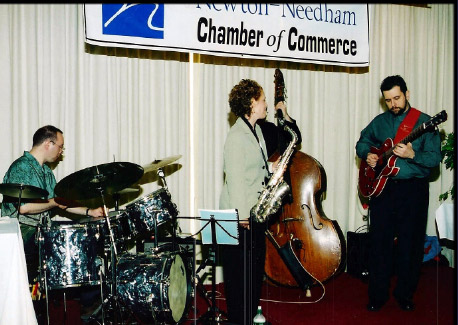 Paul Speidel Productions
provides quality live music for...

Corporate functions, trade shows, receptions, book signings, networking mixers, after-hours events, company holiday parties, gallery openings, civic and community events, summer fairs ... and ... private events, such as wedding ceremonies and receptions, formal and informal social gatherings, bar mitzvahs and bat mitzvahs, birthday parties, baptisms, showers, holiday parties...
Paul Speidel Productions
clients include: the City of Newton, Newton-Needham Chamber of Commerce, Newton Child Care Commission, Corinthian Yacht Club, Harvard Club, Bay Tower Room, First Congregational Church of Newton, Border's and Barnes & Noble bookstores, WBRS radio, the University of Northern Colorado, numerous clubs and restaurants in the New England area, and many individual and private event organizers.


If you're looking for music to add another dimension to your event, yet without being in the foreground, consider
Paul Speidel Productions
specialties:

These groups feature Paul Speidel and other top-notch Boston-area jazz musicians who are experienced at setting a tone appropriate to the nature of your event.



For cocktail hour, dinner hour, receptions and more intimate affairs, we recommend the Solo Jazz Guitar. Playing jazz standards and light classical fare, it's perfect for creating a relaxed mood, yet with a touch of class.



The
Jazz Guitar
and Acoustic Bass Duo
is best suited for receptions, brunches, dinners, cocktail hours, networking mixers -- any small- to mid-sized event. It provides a full, warm sound, lightly swinging but not overpowering. Our most in-demand group, these two instruments are a very elegant combination!



The
Jazz Trio
(with Drums) ... Perfect for after-hours get-togethers, fund raisers and private parties, this line-up transitions nicely from quieter background music to a more energetic tone for mid- to late-evening events where people mix and mingle and the conversations get lively. Good for medium-sized rooms and events of 50-100 people. Highly recommended if you're looking for something uptempo, but don't want a singer.

Jazz Quartet & Quintet
(with Saxophone and/or Piano) ... For that special event you'll want a group that can play for a crowd of any size -- music for everything from dinner to swing dancing. The Quartet and Quintet are great for party entertainment and audiences with different age groups present. Ideal for larger gatherings, this music fills a room of any size. It has a black tie feel, but can loosen up a few collars, if need be.



Blues Band featuring Female Vocalist
Providing you with the top Blues and Jazz vocalists New England has to offer, our live show brings an aspect of world-class entertainment to any event, large or small. Paul has had hundreds of appearances with award-winning and international touring singers over the years, from intimate Duos to Full Groups with horn sections and keyboards. These professionals will present songs from any and all eras of Blues and Jazz to each size event, whether a cocktail hour or a dance party! Please inquire to see which group is right for your event!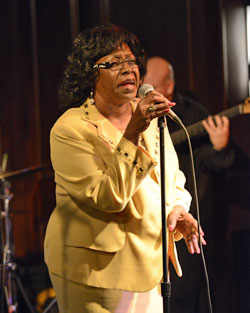 Toni Lynn Washington

The Music Company...if you're looking for more entertainment options, The Music Company is one of New England's largest full-service booking agencies. They've got bands for corporate events, weddings, a variety of DJs, and specialty acts. Whatever size the event, the Music Company can provide just the right entertainment you're looking for.
Click here for The Music Company.

Testimonials from satisfied Paul Speidel Productions clients...

"Our members were pleasantly surprised by the wonderful quality of your music. It certainly added a special element to the evening."
Joyce Marchette
Executive Director,
Newton-Needham Chamber
of Commerce

"The Paul Speidel Band was considered as an integral element while planning our wedding reception. We are so pleased and confident in the quality of this band's performances that we strongly recommend them. Their style and consistent level of entertaining was enjoyed by everyone at our event. We would proudly hire the Paul Speidel Band to perform at any other event that we plan."
Patrick and Deena Whalen

"Wonderful, pleasant addition to our buffet dinner...received many compliments from the guests at the gathering...You really made the evening special!"
Ann E. Brown
Executive Director,
Newton Child Care Commission

"We would hire him again in a heartbeat. Thanks so much for making our wedding day special."
Jennifer and Andy Mark

And others...

"...a superb job...on-time, even early to set up...courteous and genuinely interested in doing a good job...a very positive experience."

"Complimented the celebration perfectly! ...left a special touch on a special event."

"Very professional -- from contract negotiation to artist setup to music quality...added a touch of class..."

"...I would like to thank you again for all your hard work."

Paul Speidel is recognized as a talented and energetic performer and has been playing guitar for over twenty-three years, performing professionally with many major names in the music business, including Jay Geils, Patti Page, James Montgomery, Duke Robillard, Toni Lynn Washington, Taylor Made, and many others. Paul also has many years' experience managing bands and producing live music across the country.

For booking information, please contact us at...

Phone: #617-965-9848
e-mail: speidelpau (at) aol (dot) com